WHAT'S REALLY HAPPENING IN THE MINDS OF TEENAGE GIRLS

As I sit here pondering what to blog about this month, a very dear friend distracted me with a Facebook message.  Yes, it seems I am easily distracted!  However, this message is definitely heaven sent and my inspiration for today's topic.
I feel like an excited child who's just been told a top secret. This relevant, scientifically proven article has enlightened me immensely, to now comprehend and be a solid support, for my own fifteen-year-old daughter. As my friend so eloquently pointed out "If adults give their inner teen permission to drive the bus, a crash will be imminent. The only difference between a reaction and a response is time".
In this excerpt from her book "Untangled, The seven transitions into adulthood" psychotherapist, Lisa DamourPh.Duse's neuroscience to help parents understand what's really going on. I guarantee it will bring everything into perspective for a smoother, calmer, more civilised household.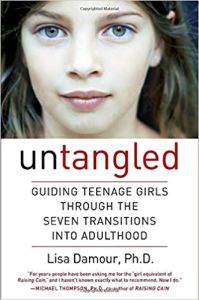 "What really happens in the mind of teenage girls?
It's not just hormones!
A teenage girl is a force of nature, with emotions so powerful, they shock even her.
The sudden force of a teenagers feelings can catch parents off guard.
The mercurial moods of early childhood simmer down and girls are pretty easy going until they become teenagers and their emotions kick in.
The brain remodels dramatically during the teenage years. Updates to the limbic system heighten the brain's emotional reactions, indicating that the feeling centres beneath the cortex are actually more sensitive in teens.
The frontal cortex is the part of the brain that exerts a calming, rational influence, which doesn't come fully online until adulthood.
Studies show that hormones respond to, or may even be trumped by, stressful events or the quality of her relationship with you.
Here's the bottom line……the changes in your daughters brain and the events that occur around her are more likely to shape her mood rather than hormones shifts. The stress she suffers will in turn effect the imbalance of hormones.
Depending on the moment she may
Ask for your support
Unleash her story, unprocessed
Share her personal feelings
Sometimes you'll recognise your role, you are being asked to play
Understanding your daughters effort to harness her own emotions, will help you maintain your sanity."