The two most intimidating words in the English language are… AB WORKOUT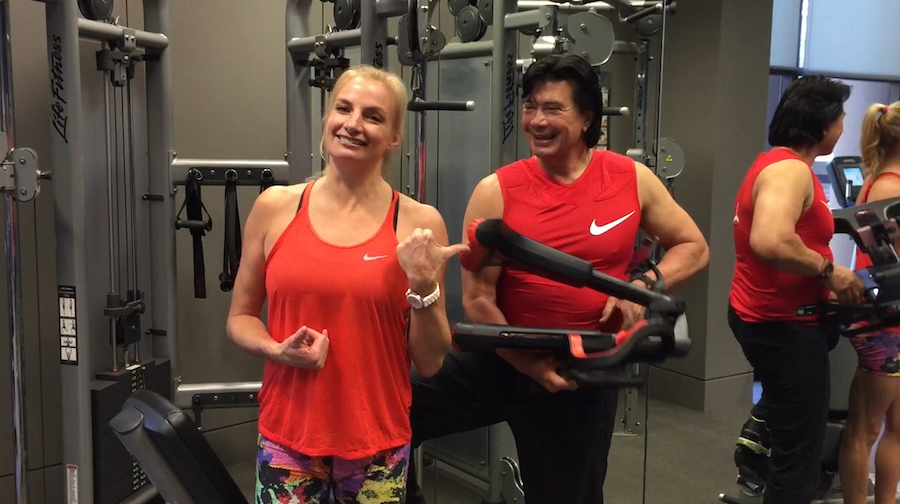 When I see this particularly wretched cabal of consonants and vowels, smugly strung together, my mind and body rebel in unison – chucking the kind of world-class tantrum an over-fructosed 5 year old would be proud of.
'NO NO NO NOOOOO!!!' Stomp, stomp, stomp.
Sadly, resisting all things ab crunch, roll and plank = a mid-zone more in keeping with firm-ish vanilla custard than a Baywatch babe six pack (can you believe Baywatch is back!)
I LOVE a big run, sincerely.. I.LOVE.TO.RUN. The bummer is that the 'body outcome' of running + no ab attention is that I currently resemble one of those childhood flipbooks where the tan pants and sensible leather man-shoes are paired with a green floral mu mu top and Ginger from Gilligan's Island's head.
In my case, I now have fit little chicken legs (feet festooned in fluoro pink Nikes) + an egg-desert tummy. And my own head.
In news that is surprising to exactly no one, as we get into the over 40s its harder to fight the flab than ever before. Bleurch. Reality, like Monday, is for other people! NOOO!
A few laps of the bay would once shift any unwanted softness in the lolly-bags (my alternative term for 'love handles', whats to love, seriously!?). But not anymore.
As I lament my mini-pudge predicament, a potential rescue remedy arrives in the form of an interview with Martin Van Der Hoeven or 'Mav'. This muscle-bound dude with the Top Gun nickname is a science lecturer and researcher from the university of Arizona.. he's also the man and mind behind the original AbFlex.
After shifting over 10million Abflexes at the height of at-home fitness hype, in the late 80s/early 90s, Mav dove back into lab-land to develop the new and improved 'next gen' version. 17 years of testing and development later (and a huge chunk of his own moula) and Mav's in Australia to launch the Core46.
I quickly learn that the lack of love for my entire 'medical gurdle' (the 46 muscles all around our core) is to blame for my squidgy sitch and that only the Core46 can activate the whole bunch of them, at once. Sounds painful.
Road-testing this star-warsy contraption, with the itunes app attached on top to guide me as I go (in the Luke Skywalker pilot position, naturally), I am starting to believe this ultra-buff Dutch dude might really know what he's on about. Its not torture, but man, I can feel it.
Pulling and pushing and bending and pressing and holding, all in one extended movement, sounds like a ludicrous proposition. Turns out its not. Sitting on a gym bench and bending over is usually due to extreme, sweaty exhaustion.. but now its an exercise – WIN!
The day afterwards I can feel my lateral back muscles, biceps, forearms.. and my abs. All of them. I think I forgot some of that lot were even in there.
The verdict – A week later and my new 4-minute-a-day routine isn't killing me. I can do it on the couch watching the Voice and something resembling an actual waist is threatening to make an appearance. Woohoo!
Check it out at www.funtastic.com.au/Core46